Careers
You bring the passion, we bring the opportunities!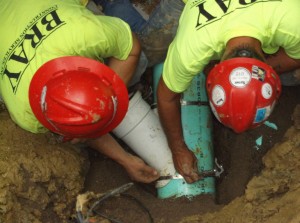 There no doubt that the employees at Bray Construction Services have a passion for building.  They have a passion to improve, a passion to learn and a passion to share ideas.  This passion puts a company on a continual path of growth and is what we look for in new team members.
We channel this passion with training and multiple paths for career growth.  Our environment exposes team members to the different facets of the industry, providing them with a well-rounded view of the different roles and specialties.  We encourage team members to explore expertise they desire by supporting professional development helping them to enhance skill and knowledge to grow in their career.
A PLACE FOR YOUR PASSION
No matter if you are an undergraduate, recent graduate, or seasoned industry professional, at BCS we hire all levels of experience in our operations.  If you have the passion for building excellence, BCS is the place to enhance your career through training and opportunity. Submit your application today.
Any resumes received will not be considered as applications for employment until the individual is selected for an interview.
EEO Pledge
It is the policy of Bray Construction Services to pledge its full support to equal employment opportunity for all persons without regard to race, color, religion, national origin, age, sex or disability. This policy relates to all aspects of employment, placement, upgrading, demotion, transfer, layoff, recall and termination; rates of pay or other forms of compensation; selection for training; to the use of all facilities and to participation in all company sponsored employee activities.
Benefits
Bray Construction Services asks you to "build excellence" in all areas of your life both personally and professionally. In return for your commitment, we focus on providing you with excellence in your personal life, by offering an employee benefits package above and beyond the standard.
We offer a comprehensive package to eligible employees and dependents including:
Medical benefits
Dental and vision programs
Life/AD&D insurance
Supplemental life and dependent life insurance
401(k) plan
Bonus program
Employee assistance program
Flexible spending program.